Currently, community-based tourism is considered as the type of tourism that brings the most sustainable economic development benefits to local residents. Community-based tourism not only helps people protect ecological resources, but also preserves and promotes the unique cultural features of the locality. Vietnam has a lot of potential in terms of natural landscapes, historical values, indigenous cultures of ethnic groups, customs and lifestyles, rich culinary culture of regions, which is the basis for strong development. type of community tourism.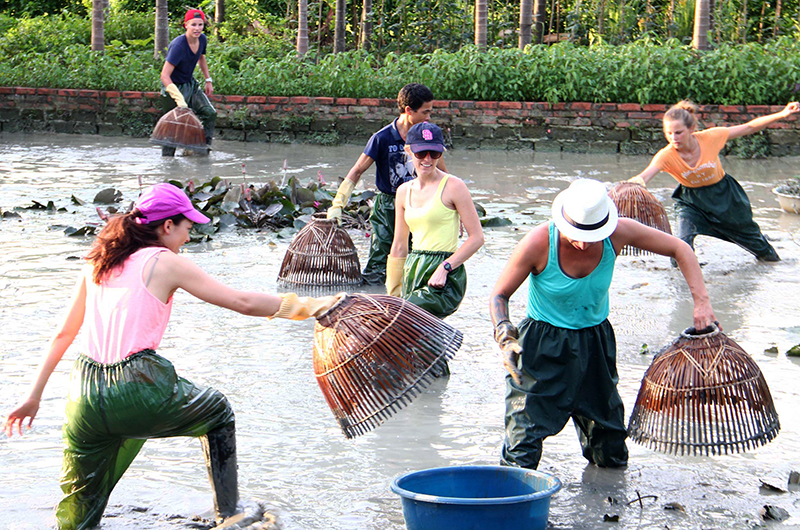 Tourists experience fishing by net in the traditional way at Yen Duc Village Tourist Area (Dong Trieu, Quang Ninh)
Community-based tourism is often understood as an activity of a community participating in tourism. This activity started spontaneously in places with tourist attractions and historical sites that local residents participated in serving the needs of tourists. It is a common fact that businesses that bring / bring visitors to mostly exploit the local potential, but have not paid attention to attracting the local community to do tourism. When sharing benefits, sometimes the interests between businesses and the community are not consistent, the disadvantage is often on the part of the community, leading to uncertainty and making tourists unhappy.
To develop community-based tourism in a sustainable way, it is very necessary to promote positive factors, limit and minimize negative aspects. To do so, it is necessary to have a tourism development strategy in a sustainable way, focusing on enhancing culture in tourism activities. The correct orientation for tourism development in general and each locality in particular in this respect is to focus on developing community-based tourism in the direction of cultural, historical and ecological tourism; in order to achieve economic and social efficiency at the same time, maintain political security, social order and safety, protect the environment, preserve and promote the national cultural identity. Community-based tourism activities must enrich national identity and traditions, beautify the environment, prevent negatives and social evils from entering business activities.
1. Community tourism
1.1. Notion
The concept of community-based tourism is given differently due to the location of community-based tourism depending on the research perspective and point of view. According to Nicole Hausle and Wolffgang Strasdas (2009): "CBT is a tourism development model in which mainly local people develop and manage. The economic benefits that come from tourism will stay in the local economy." The above concept emphasizes the main role of local people in tourism development right in the management area.
According to the Institute of Mountains: "Community-based tourism is to conserve tourism resources at tourist destinations for long-term sustainable tourism development. CBT encourages the participation of local people in tourism and has mechanisms to create opportunities for the community. Community-based tourism is an interactive process between the community (owner) and tourists whose meaningful participation on both sides brings economic and conservation benefits to the local community and environment.
In general, community-based tourism is a model of tourism development in which the residential community is the one who provides products and services to tourists. The local community is also responsible for protecting tourism resources and they are entitled to share in the economic benefits generated by tourism development. Community-based tourism development will create more jobs and increase income for local communities, contributing to local poverty alleviation.
In essence, community-based tourism is a type of tourism organized, managed and owned by the community itself to bring economic benefits and protect the common environment, through the introduce to visitors the characteristics of the locality (landscape, culture, etc.). The community-based tourism model creates conditions for visitors to experience the lives of indigenous people with very ordinary activities and local rustic dishes. In addition, this model of sustainable tourism contributes to promoting poverty reduction strategies, creating livelihoods, and encouraging the role of indigenous peoples in the formation of specific tourism products and conservation. preserve and promote traditional cultural values as well as local natural heritages.
The characteristics of community tourism are as follows:
1) Community-based tourism ensures sustainable culture and nature: Tourism is balanced with economic, socio-cultural and environmental standards; natural and cultural resources are properly exploited; environmental protection ecological landscape; cultural environment is preserved. Community-based tourism is the best way to both do tourism and preserve cultural identity, use local services, develop culture, respect local culture, community-based tourism promotes traditional occupations and development. develop and preserve cultural identity; It is necessary for local people to participate so that people have a sense of protecting environmental resources, education to raise awareness of ecological environment protection, cultural identity, community hygiene.
2) Community-based tourism requires community ownership: The community is the subject of national heritage management, has its own style and lifestyle that should be respected; Communities have the right to own the resources and thus have the right to participate in tourism activities.
3) Income from community-based tourism should be kept for the community: Profits from tourism are shared fairly with the community to protect the environment; The community receives profits and direct economic benefits to reinvest in the locality in addition to the Government's support.
4) Community-based tourism contributes to raising awareness for the community: Improve professional qualifications, protect the environment and preserve the ecosystem; raise awareness of community cultural heritage protection and fight against imported trends.
5) Community-based tourism needs to strengthen the community: Community-based tourism is managed by the community; community tourism is to promote and create opportunities for the community to participate enthusiastically in tourism development; communities are empowered to own, perform services and manage tourism development.
6) Community-based tourism needs to increase support from NGOs and state agencies: Support experience and investment capital; support in terms of facilities and prioritize policies for the community in tourism development and community development.
Currently, there are many different names related to community tourism such as: Community-Based Tourism; Community-Development in Tourism; Community-Based Ecotourism; Community-Participation in Tourism; Community-Based Mountain Tourism. Although the names are different, there are some basic issues that are similar or similar in terms of organizational methods, locations, objectives, and locations of tourism and community development organizations.
1.2. The impact of tourism on the community
1.2.1. Impact in a positive direction
In the development, social culture of regions, regions, ethnic groups, regions have exchanges, penetration and interference with each other. In addition to the increasing exchange between world cultures thanks to the development of transportation, communication, diplomacy and commerce, tourism activities promote cultural exchanges in a way. most direct and fastest. Thus, tourism is an integrated and highly socialized cultural activity. All its activities pursue or contain a certain type or form of culture. Whether consciously or unconsciously from the tourist side, from the community side, culture must be throughout all aspects of tourism activities. The main tourist needs including travel, dining, accommodation, shopping, sightseeing and entertainment all contain cultural characteristics. In eating, staying, traveling, shopping not only meets the needs of normal living but also the discovery, enjoyment and experience; Sightseeing and entertainment are typical needs of a tourist trip, which shows more clearly the cultural character. All tourism goods and services (especially souvenirs) that meet these needs are valuable to tourists in that they satisfy the needs of finding new things. the difference between the tourist destination and the tourist's usual residence.
Everyone knows that, although tourism must be based on economics; the economic development creates the material and technical basis for tourism activities and tourism itself also includes the content of economic activities, but overall and in the end, tourism is an activity. culture. The culture of tourism, or in short, tourism culture, is not a mere addition between culture and tourism, but a cultural form in the field of tourism, with definite content. Tourism culture is caused by tourism activities, a particular form of socio-cultural activities, born or closely related to it; Tourism culture will develop along with the development of tourism. Tourism culture is a term with many meanings and will be understood very differently if viewed from many aspects. To some extent, tourism culture can be understood as a combination of material culture and spiritual culture created by humans; is a spiritual civilization and a material civilization closely related to human tourism activities.
Tourism culture is formed by the interaction between the actors involved in tourism activities, including tourism resources, tourists, the population of the destination, local authorities and tourism enterprises. calendar. In which, tourists are the center to create impacts, tourism resources are the objects with the initial tourist attraction, and the remaining components create sufficient conditions for tourism development and culture. tourism.
During travel, guests often use services and goods and often come into contact with the local population. Through that communication, the culture of both the tourist and the local community where the visitor is coming is cultivated and enhanced. Tourism creates the ability for people to expand and enhance their understanding of traditional history, culture, customs, ethics, social regimes, etc. to enrich their aesthetic abilities, I emotional training, mental comfort when visiting the cultural and artistic treasures of a country, a region, a locality, a community. In the process of travelling, people constantly observe, appreciate, and absorb views and lifestyles.
Tourism is also a means of educating patriotism, preserving and enhancing national traditions. Through travel, people get acquainted with beautiful scenery, history and national culture, thereby loving their country more and more; Local communities also see the attraction of indigenous culture, become more and more aware of the preservation of their local tangible and intangible cultural heritage, contributing to the exploitation and conservation of these heritages. national cultural heritage, protection and development of the natural and social environment. International tourism plays an important role in international spiritual education, making people see the need to develop and strengthen international relations, making ethnic groups closer together, contributing to peace. normalize relations, preserve and consolidate peace and increase friendship among nations, strengthen cooperation and integration in all fields for the common development benefit.
In addition to the perspective of tourism consumption, cultural exchange in tourism is also formed and promoted through tourism "production", ie creating tourism supply in the market. The exploitation of tourism resources, the construction of tourist works have reflected the intelligence and creativity of mankind. In the process of globalization, on the one hand, it is necessary to preserve the identity in tourism activities to have its own, the tourism industry in all countries, regions, localities and communities must selectively absorb Filtering the experience of tourism development and the world's cultural quintessence, in tourism activities, from building to operating tourism business establishments, there is an interweaving, regionalization and globalization of beauty. , the beauty of world civilizations.
Tourism is now a popular phenomenon that has created a flow of people "moving" around the world every day about 3 million international tourists (if domestic tourists are included, the number will increase to 10). time). It is this influx of tourists that promotes the flow of information, knowledge, science, technology, capital in tourism and related to tourism, as well as in other fields, creating innovation. on ways of seeing, renewing concepts in many aspects, including the concept of culture. In turn, this circulation has a direct impact on economic exchanges, especially in the external economy, to create material foundations and conditions for cultural exchanges. The exchange through tourism has a positive meaning for economic, cultural, scientific and technical exchanges between countries, even more convenient and effective in some cases than human-to-human exchanges. official road.
1.2.2. Negative impact
The first negative effect to mention is its impact on the environment, both the natural environment and the social environment, ie causing environmental pollution, which is most evident in the places where guests come. The increased flow of tourists, if not well managed, will lead to commercialization, trivialization of indigenous culture and national culture to make money quickly, most clearly in organizing festivals at any time and any place. wherever; arbitrary imitation in architecture, in performance, in embellishment and maintenance of monuments not in accordance with the original. The commercialization and trivialization of culture can only entertain guests for a moment, but it causes serious damage to the national pride for their culture, sooner or later it will lead to depression. reduced hospitality and sustainable development of tourism. Other issues that are also of great concern are cultural hybridization, imitation of the lifestyle of tourists from all over the world, the decline of traditional moral concepts leading to moral corruption…
Tourism development that is not well managed will pollute the natural environment by over-exploiting natural tourism resources, trampling on plants, harvesting rare plants, eating and buying rare animals, littering and wastewater, causing noise, excessive use of clean water and clean air, changing the ecosystem, especially reducing ecological diversity when tourism develops, the number of tourists increases too much. load…
It would be a mistake to see only the positive side of tourism in the formation, development and promotion of cultural exchanges, but underestimate the negative side arising associated with tourism activities. However, it must be affirmed here that these negative aspects are not inherent in tourism, not every tourism development will cause environmental pollution, the above negatives, but due to inefficient management will lead to the consequences that tourism is a favorable land for negative aspects to form and develop. Not because of the negative influence associated with tourism that limits tourism development. The key of the problem is how to clearly see the negative effects to control and minimize it.
1.3. Developing community-based tourism in a sustainable way
Developing community-based tourism with the goal of hunger eradication and poverty alleviation must definitely be sustainable. Sustainable development is ultimately development that meets the needs of the present without compromising the ability of future generations to meet their own needs. In fact, this is becoming urgent and is often talked about when emphasizing the responsible use of tourism resources. In community-based tourism the imperative choice is the responsible use of human and natural tourism resources. The process of community-based tourism development must be oriented and managed according to one motto: Harmoniously combine the needs of the present and the future in terms of both organization, tourism production and tourism consumption. history, in order to achieve a goal of preserving, regenerating and developing natural resources, preserving and promoting the national cultural identity and the sacred soul of the tradition.
The core of sustainability is balance: Balancing between supply and demand both in the present and in the future, prominently shown is the factor of capacity; balance between quantity and quality of development; balance between attracting international tourists and domestic tourists in certain periods; balance between exploitation and protection and development of festival tourism resources; balance between development requirements and management capabilities, in which the quantity and quality of human resources to organize festivals and tourism activities play a key role; balancing tourism activities in terms of time and space; Balancing costs and benefits… These issues are not always possible because of the pressure of immediate interests. These are the principles when developing community-based tourism to contribute to poverty reduction, which must be strictly adhered to.